The process of moving can be stressful as you have to pack your valuable thing in a very short period. The amount of moving can be the reason for your stress. Obviously, you have to pack your everything with full consideration and concentration because you never want to leave any item behind you. The investment of paperwork, physical movement of luggage can be some costly while moving. Sometimes, it also consumes your time. Well, you are lucky that you can hire our active and experienced home removalist which will be affordable for you. But still, some necessary things that you should definitely do before hiring removalists, for reducing the time of moving.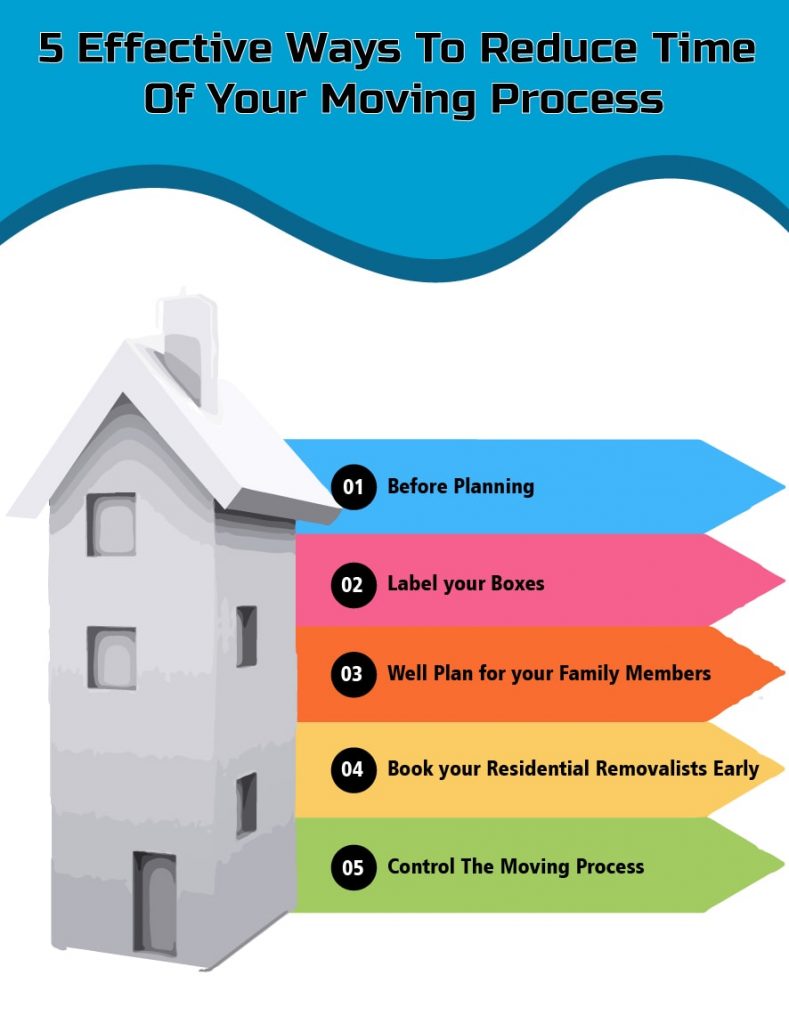 Tips to Reduce The Time of The Moving Process
Before Planning:

If you are preparing for moving, plan everything before moving. So, you can save your time. Make a proper list of required things for moving. This will make your move easy and fast. Avoid thinking about last-minute packing and start your packing if you have to move in the coming days. You can get suggestions from your interstate removalists.

Label your Boxes:

Before moving, label your boxes with special labelling scripts this will help you to recognise your boxes during the process or when you settle into your new place. You can buy these labelling scripts from any nearest store or the online.

Well Plan for your Family Members:

It is very necessary to plan everything before hiring home removalists You should plan for your kids and aged family members who can feel disturbed or unsettled during the complicated process of moving. So, if you are not going very far from your current place, you can leave them with your relative or friends. And, after you have done your moving, you can pick them. OR, If are moving far away, ask your friends to company them so that you can make your moving easy and simple.

Book your Residential Removalists Early:

You should book your residential removalists early for saving your time. But remember to confirm your booking before 2 or 3 days of moving. This will make you stress-free from the moving process. And, ask them for an easy move. They will give you relevant advice.

Control The Moving Process:

If you hire professional removalists, it is not compulsory that you can leave everything completely to removalists. Hence, they are professionals and know everything but it is not wise to leave them alone while shifting.
Choose Best Removalists in Adelaide
While shifting your valuables always hire the best removalist so that you can save your time as well as get hassle-free services. And, you can complete your requirement of moving at Metropolitan Removals by hiring the best removalists in Adelaide.
Read More Here: –