Excited about entering your new house and want to save your money while relocating!!! Well, we are here to give you services for residential removalists, as well as our tips, will make your shifting easy and safe. There are several factors to consider when you decide to move into your new house. Sometimes, you have to spend too much money on purchasing new things or antiques. But you can save your money with before planning or avoiding unexpected bills, which would be expensive at the last moment.
We have arranged some easy steps by which you would be able to save your money during moving into a new home.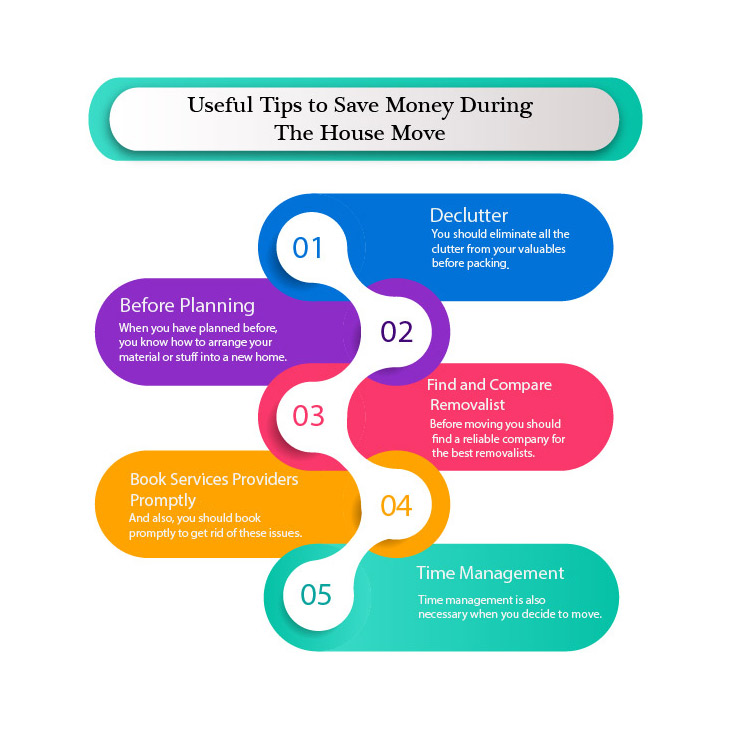 Some Money-Saving Tips
Declutter –

Before your packing, make sure that you are carrying only useful and helpful material. You should eliminate all the clutter from your valuables before packing. Try to pack only necessary and worthy things during moving. Decluttering can make your job easier while packing worthy things or materials. By selling your unwanted clothes and accessories, you can also earn some extra money that will reduce your further burden of the budget in leasing professionals.

Before Planning –

Before planning will make your job done easily without any stress. When you have planned before, you know how to arrange your material or stuff into a new home. You will be capable to shift your furniture and valuables easily according to your planning. Often homeowner may forget about some necessary tips at the last moment, but if you already had planned, you will be able to move easily. You should remember everything while shifting and it is possible when you have already prepared a list for the last moment. So, make a list and be prepared before hiring professional removalists.

Find and Compare Removalist Services –

Before moving you should find a reliable company for the best removalists. And, also comparing the services will be helpful in leasing professionals. Check all bad or good reviews by visiting the websites and their inbox and, compare the services of every company that is serviceable in your city. Then, choose only trusted, verified and fully insured company to get furniture removalist services when moving house.
Book Services Providers Promptly – If you book your service provider promptly, you will be stress-free during packing. In peak season like summer, or over holidays, you should be more alert while booking, because everyone wants to move on holidays. So, they will get rid of busy or full bookings. And also, you should book promptly to get rid of these issues.

Time Management –

Time management is also necessary when you decide to move. As we know time is a valuable resource, therefore it's better to do things as soon as possible. So, pack your things before reaching removalist because by late or slowly packing, you have to pay more for furniture removalists. And, make a schedule and do your work according to your schedule.
Get Instant Services by Experienced Removalists.
Everyone wants to always get instant services with quickest procedures. So, we are here and work with the fame of Metropolitan Removals. By choosing us, you can get instant services as well as the Cheap Removalists in Adelaide.
Suggested Blog Source –